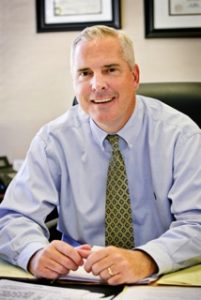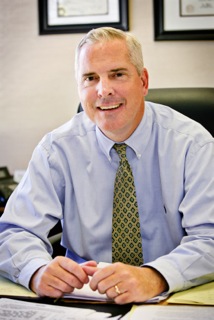 Sean M. Petersen has been appointed by the Fourth District and Juvenile Court judges to serve as a domestic relations and juvenile court commissioner. He was sworn in as a commissioner on January 8, 2018, with a formal ceremony to follow later. Mr. Petersen replaces Commissioner Joshua Faulkner, who is returning to private practice.
Mr. Petersen has been a shareholder at the Provo law firm of Howard, Lewis & Petersen, P.C., where he has practiced since 2000 following graduation from the Willamette University College of Law in Oregon. His law practice focused primarily on family law and he brings a wealth of experience in that area of law to his service as a commissioner. He has helped hundreds of parties to litigate and resolve the complex and high conflict issues inherent in most divorces, including custody, support, and property division. He has demonstrated unusual skill and ability to help parties reduce conflict and move forward with their lives. His ability in this regard is best explained by Atticus Finch: "You never really understand a person until you consider things from his point of view . . . until you climb into his skin and walk around in it." (Harper Lee, To Kill A Mockingbird 30 (Warner Books 1st ed. 1982).) Mr. Petersen's empathy and understanding for his clients is second to none.
Howard, Lewis & Petersen congratulates Mr. Petersen on his appointment as Commissioner. Our loss is the community's gain.
Posted January 8th, 2018