Some states thought that it was a good idea to strengthen laws that punish wrongdoers, and sheriffs in Utah agree. This is happening at a time when people all over the country are protesting racial injustice that had protesters fighting with police officers and destroying public property.
The state legislature hasn't had a chance to draft new legislation, but it has voiced its agreement with the sheriffs. They voted to open a bill file so that they could address this issue before the 2021 legislature.
Representative Lee Perry stated that citizens should be able to protest, but he doesn't want to encourage people to riot. Lee Perry is the co-chairman of the Law Enforcement and Criminal Justice Interim Committee.
Supporters of this type of law say that it would protect first responders. It would also deter anyone with the intention of committing crimes. Some people are against it because it would infringe on people's first amendment rights and that it would take the focus away from the issue of police brutality.
Sheriff Ryan Arbon described his observances as of people with the intent to have their voices heard on this subject, but in some instances, he admitted that a person here and there had other things in mind. He believes that Utah needs a law like the one in Tennessee.
What Are the Protesting Rights in Utah?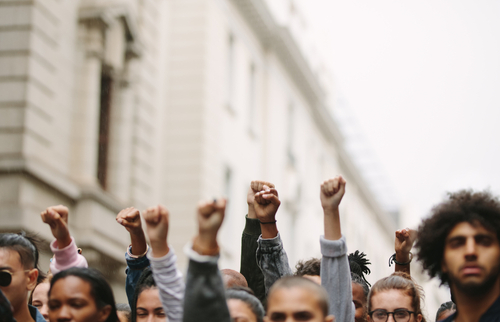 Citizens in Utah have the right to protest in the streets, sidewalks or parks. If it is in a public forum, protests are welcome. The state designates particular places for protests in front of the legislature and other government buildings. Your rights will be restricted on a military base, a post office or airport terminals because these are not public forums. These protests cannot support one side or the other.
On private property, you may protest, but you must follow the property owner's rules. Anything to the contrary could result in your arrest. If you would like to protest at a courthouse, you cannot block the entrances or exits. You must not seek to encourage an outcome of a case if you plan to do this.
You can hold a march or a protest on the sidewalk, but you must make sure that you obey all traffic laws. This activity will be legal even if you don't have a permit. Other situations do require a permit, such as a rally at a park, a rally that needs an amplifying device or a rally that may block traffic.
Several types of speech are against the law in Utah. For example, words that can be classified as "fighting words" are expected to provoke others to react violently. The use of obscenities may also be restricted.
Before you have your protest in Utah, you may wish to consult with Provo criminal defense attorneys to find out about all of your rights and responsibilities. Howard Lewis & Petersen are the Utah County criminal defense attorneys that you need. If you have already been charged with Utah criminal charges, you need to hire Provo criminal lawyers today. Our Utah County criminal attorneys have an extensive amount of experience, so you can trust us to do our best for you.
Our law firm was the first law firm to open its doors in Utah County when Jackson B. Howard first opened for business in 1950. More than 75% of our attorneys have been with us for at least 10 years, so you will be assured that your lawyer will have the experience that you need to fight your Utah criminal charges. Some of our Provo lawyers have even been with our firm for 40 years! We are prepared to answer any questions that you may have about protesting in Utah. Give us a call today.       
Posted September 25th, 2020